Footprint Vietnam, Cambodia & Laos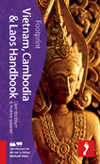 Autor: Claire Boobbyer, Andrew Spooner, Jock O'Tailan
Verlag: Footprint
Auflage: 3
Erschienen: November 2010
ISBN: 978-1907263163
Seitenzahl: 510 (mit 42 Landkarten)
Größe: k. A. 
Gewicht: k. A.
Für wen geeignet: Individualreisende, Traveller, Indochina-Rundreisende
Preis: 15,95 Euro (Deutschland), 19,99 Euro (Österreich), 36,90 Franken (Schweiz)

Kundenbewertungen lesen und dieses Buch bestellen
Verlagsinformationen
The most popular route in Southeast Asia is covered comprehensively in the 3rd edition of Footprint's Vietnam, Cambodia & Laos Handbook. Including all the usual spots plus plenty of lesser-known gems to help inquisitive travellers really see what this beautiful region has to offer.
Whether travellers want to experience the hustle and bustle of Hanoi, feel the eeriness of the Plain of Jars, gaze at theawe-inspiring Angkor Wat or head down the Mekong on a slow boat, or a higher-octane tube! They can do all this and more with Footprint's totally revised and updated 3rd edition Vietnam, Cambodia & Laos Handbook. With in-depth coverage of all three countries this guidebook is perfect for anyone planning a trip to this stunning region. Including an extensive planning section and suggestions for getting off the beaten track, plus accommodation listings for every budget and full details of all the sights, activities and incredible food this guide will be invaluable to anyone wanting to get the most from their trip.
Includes coverage of the three main transport hubs for the region: Bangkok, Kuala Lumpur and Singapore
Detailed information on regional hotspots including Angkor Wat, Ho Chi Minh City and the tropical Mekong Islands
Useful tips on where to go caving, cycling, diving, kayaking and more
Suggested itineraries and advice on getting off the track
Über den Autor
Claire Boobbyer is a freelance writer, editor and photographer and has had an attachment to all things Latin ever since she backpacked around South America over 10 years ago. As well as co-authoring Footprint Belize, Guatemala & Southern Mexico, she has authored Footprint's Guatemala and Vietnam and contributed to Footprint's Mexico & Central America, Cuba and Thailand. Her photography has appeared in Footprint guides to Asia, Latin America and Cuba, as well as several other travel publications. Claire is currently in Vietnam and working on the newest edition Handbook for us.
Andrew Spooner is a feature, travel and sports writer and photographer. His work appears regularly in The Independent on Sunday, The Independent, CNN Traveller, The Guardian, the Observer, GQ and Bike. He has also taught Media and Journalism, part time, at the University of East London. In his previous life, Andrew travelled through the underbelly of Europe with various punk rock bands and he still likes loud music, played badly. After travelling to Thailand in 1989, Andrew developed a fascination with the country and now shares his time between Bangkok and London.