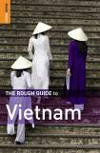 Autoren: Ron Emmons, Jan Dodd, Mark Lewis
Verlag: Rough Guides
Auflage: 6
Erschienen: Oktober 2009
ISBN: 978-1848360846
Seitenzahl: 544
Größe: 19,6 x 13 x 2,4 cm
Gewicht: 485 g
Für wen geeignet: Individualreisende, Traveller
Preis: 14,95 Euro (Deutschland), 19,99 Euro (Österreich), 37,90 Franken (Schweiz)

Kundenbewertungen lesen und dieses Buch bestellen
Verlagsinformationen
The Rough Guide to Vietnam is the essential guide with clear maps and detailed coverage of one of Southeast Asia's most enticing destinations. Using expert advice explore the best attractions of Ho Chi Minh City, roam the best Vietnamese markets, shopping, temples, national parks and then slow the pace down with a trip to the paddyfields of the Red River Delta.
From the rugged mountains to the west, to the South China sea to the east, the Rough Guide steers you in the right direction to find the best hotels in Vietnam, Vietnam restaurants, stylish Vietnamese bars, cafés, clubs and shops across every price range, giving you clear, balanced reviews and honest, first-hand opinions. This guide covers the unspoilt islands, pristine beaches and trekking opportunities that have long made Vietnam a travel hotspot, from magical Ha Long Bay to the hill-tribes of the mountainous north. Explore all corners of Vietnam with authoritative background on everything from Vietnam's ethnic minorities to Hanoi's impressive colonial architecture, relying on the clearest maps of any guide and practical language tips.
Über die Autoren
Ron Emmons, a British native, lived and worked for many years in Africa and the Americas before settling in North Thailand in the late 1980s. He has travelled extensively throughout Southeast Asia and has written and photographed features on travel, culture, Nature, Buddhism and photography for many international magazines, such as Hemispheres (United inflight) and Sawasdee (Thai inflight). He has also researched, written and provided images for several guide book publishers, including New Holland, AA (Automobile Association), Berlitz and DK (Dorling Kindersley).
Born in Africa, Jan Dodd caught the travel bug early. She learnt how to read maps – and drink Newkie Brown – while studying Geography at Durham University. These essential life-skills got her as far as Hong Kong where she spent several happy years in the 1980s exploring Southeast Asia. Then it was on to Tokyo and some serious language studies. In her spare time, Jan set off around Japan in search of the ultimate rotemburo (outdoor hot spring). Since the early 1990s she's been living in southwest France, eager to ascertain whether duck fat, red wine and garlic really are the key to longevity. In between tending the vegetable plot and walking in the Pyrenees, Jan spends her time writing and updating guide books and providing European and Asian coverage for various media